About Me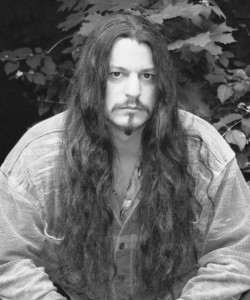 Dee Whitcomb is a Lakota Indian enrolled on the Lower Brule Sioux Indian reservation in South Dakota. Born in Boston, Massachusetts in 1967 and raised in southeastern Connecticut. Whitcomb first attended Norwich regional Vocational Tech School where he learned printing and lithography and then graduated from Griswold High School in Jewett City, Connecticut.
Although Indian by birth, his works cannot be classified in one genre as he does not only create Indian art. When Dee Whitcomb creates Indian art it generally has a political or social theme associated with the plight of the American Indian. However his abilities and themes range from contemporary works to surrealism, abstract, classic nudes, pop art and erotic , with an emphasis on photorealism and modern pinup art. It is only natural as Dee Whitcomb is not only a painter but also a sculptor, musician, photographer, graphic designer, and tattoo artist.
Educated mostly by the school of life Whitcomb spent many of his years as a professional musician before discovering the art of tattoo. As a musician he played guitar for several bands in the United States most notably the Billboard charting act Erotic Exotic. As a tattoo artist he equally excelled becoming an internationally recognized award winning artist within the first 3 years at conventions worldwide. Between these two occupations it afforded him the luxury of non-stop travel for work and pleasure supplying Whitcomb with the creative energy that drives him. Travel landed Dee in Frankfurt, Germany which he had called home since 1998. In the summer of 2005 he attended a course taught by world renown hyper-realistic artist Dru Blair escalating himself to a level respected by professional artists worldwide. Due to larger opportunities back in America, 2011 has marked Whitcomb's return to his homestate of CT.
Dee Whitcomb has appeared in publications in the United States, Canada, England and the U.K., Germany, Italy, Belgium, France, Luxembourg, Austria, Poland, Switzerland, and Russia as well as a book published in Japan. In addition Whitcomb has also created commissioned pieces for numerous internationally known celebrities, musicians, supermodels, professional sports figures and aristocracy.
AWARDS AND REFERENCES
1995 2nd Hamburg Tattoo Convention
3rd place – Best of show
1995 3rd Frankfurt Tattoo Convention
1st place – Best of show
1998 6th Frankfurt Tattoo Convention
3rd place – Best of show (womens)
Multiple Awards at numerous bike rallys, poker runs, and private competitions.
(available upon request)
1995 Co-founder and Co-organizer for the 1st South Florida Tattoo Expo
1996 Owner and Founder of Twisted Heart Tattoo and Gallery, Hollywood, FL
2001 Co-Owner of Stahlwerk Tattoo und Piercing, Ashaffenburg Germany
2004 One man art exhibition for one month at the prestigeous Gallery la Luna
Wiesbaden, Germany
2005 Appeared in the motion picture and DVD Waking up Dead
2007 3rd place –Art Scene International's ARNO Award- Best Illustrator
2008 Art Fusion Camp, 1st London Tattoo Convention. Performed in the artfusion
live onstage.
2009 Bugatti/Kapraun/Offset- Released limited addition Dee Whitcomb Jacket line
which was featured at Europe's Brot und Butter fashion show in Berlin alongside
the top Designers in the world
2012 Gallery exhibition Schönheit/Beauty at Spirit Gallery, New London CT
2012 Sponsored Artist with Starbrite Colors, tattoo pigment
May 2013-3rd Place Ribs, United Ink, NY
September 2013-2nd Place Biomech, Cradle of Aviation, United Ink, NY
Works currently on display in multiple galleries around the globe including but not limited to, Frankfurt, Darmstadt, Weisbaden, Amsterdam, London, Northern Ireland, Miami-Ft. Lauderdale and Los Angeles.